Digital Voltage Meter
TEST002
Digital Voltage Meter
TEST002
Measure wall outlet voltages using one hand.
1. For close measurements, clip the secondary probe to the meter body.

2. For measurements between points up to 42 inches apart, unclip the secondary probe from the meter.

3. For sockets having recessed, hard to reach contacts, remove the black probe covers, exposing slim 5/8" long probe tips.

4. Where bare probe tips risk a short, slip on probe covers, reducing exposed tips to 1/8 inch.
Digital readout - 7 to 690 volts, AC/DC
Continuity check
Phase rotation (three-phase electrical systems)
Lightweight - Less than 7 ounces
Water and dust resistant
Features
Applications include technical equipment, computer servers, power tools, international appliances, air conditioners, air compressors, and exercise equipment.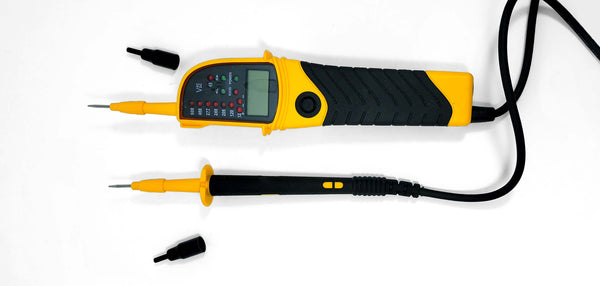 Digital Voltage Meter
Range

7-690 volts, AC/DC

Batteries

Two AAA alkaline (also known as LR03)

Temperature

Operational: 14 to 130 degrees fahrenheit, -10 to 55 degrees celsius. Storage: -4 to 140 degrees fahrenheit, -20 to 60 degrees celsius.

Humidity

To 85%, no condensation

Size

Portable, weighing 6.8 ounces, with dimensions of 10inches in length

Phase Rotation

Three phase, 4 wire system, 50/60 Hz
Specifications