Model A220-15D plus Adapter for Tesla charge cable (ADAP006)
-P-110
Model A220-15D plus Adapter for Tesla charge cable (ADAP006)
-P-110
Includes Plug Adapter for Tesla with NEMA 5-15 charge cable plug.  Sales Package P-110 consists of the Model A220-15D Quick 220® Voltage Converting Power Supply plus a plug adapter that connects the 220-240 volt to the charge cable shipped with Tesla vehicles.

Each plug adapter is rated at 12 amperes, the maximum current available to early Tesla vehicles from the Quick 220® system.
For details on Electric Vehicle Charging see "Electric Vehicle Charging."
Power Requirements:  The Quick 220® Power Supply uses two outlets from two different 110-120 volt circuits that are out of phase and not controlled by ground fault interupters (GFI) or arc fault circuit interupters (AFCI). The Quick 220® Power Supply has built in circuitry to test for the out of phase circuits. A separate tester is supplied to check the outlet for a GFI. Most buildings have numerous outlets that meet these two requirements.
Features
Applications include technical equipment, computer servers, power tools, international appliances, air conditioners, air compressors, and exercise equipment.
Model A220-15D For Equipment with US/Canadian Plugs
Current

12 amperes, continuous; 15 amperes up to 3 hours; momentary over range to 50 amperes for starting motors and similar demands.

Power

To 3600 watts at 240 volts.

Size

Portable, weighing less than 4 pounds, with dimensions of 6.5" x 5" x 3"

Adapters Fit

220-240 volt plugs from Europe, Asia, South America, Africa, Australia

Straight Blade Outlet

15 ampere receptacle for US/Canadian 208-240 volt plugs (NEMA 6-15)
Specifications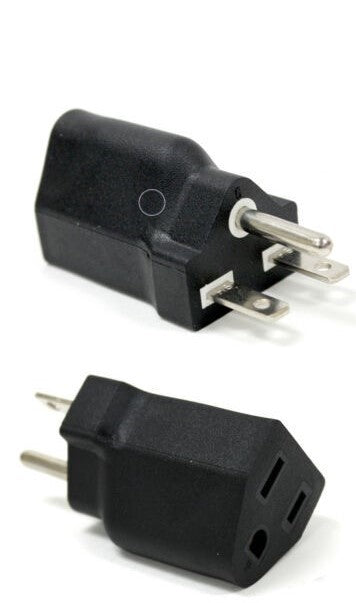 Input Electrical

110 to 120 Volts AC, 60 HZ, non-GFI or non-AFCI circuits, two circuits, out of phase.
Two 72 inch power cords, 15 amperes maximum each line, NEMA 5-15 plugs.

Output Voltage

Single Phase Input: 220 to 240 Volts AC (2 times input voltage).
Three Phase Input (using 2 phases):190 to 208 Volts AC (1.732 times input voltage).

Output Current

Model A220-15D: 12 amperes max. continuous; 15 amperes max. for up to 3 hours.


Output Power

Model A220-15: 3600 watts at 240 volts.

Output Receptacle

Model A220-15D - straight blade, double outlet, NEMA 6-15R.