Model A220-20D plus 2 adapter cords
-P-106
Model A220-20D plus 2 adapter cords
-P-106
Sales Package P-106 consists of the Model A220-20D Quick 220® Voltage Converting Power Supply plus the adapter cords necessary to connect to ordinary 120-volt outlets (NEMA 5-15).
This sales package is designed for users already possessing heavy-duty, 12 gauge or larger, 110-120 volt extension cords. In these cases where the user supplies the extension cord(s), it should be 12 gauge minimum with connectors that have been wired correctly. The extension cord wiring can be checked with the outlet tester (TEST001) supplied with the system.
Power Requirements:  The Quick 220® Power Supply uses two outlets from two different 110-120 volt circuits that are out of phase and not controlled by ground fault interupters (GFI) or arc fault circuit interupters (AFCI). The Quick 220® Power Supply has built in circuitry to test for the out of phase circuits. A separate tester is supplied to check the outlet for a GFI. Most buildings have numerous outlets that meet these two requirements.

Features
Applications include technical equipment, computer servers, power tools, international appliances, air conditioners, air compressors, and exercise equipment.
Model A220-20D 20 Amp Power Supply Straight Blade Outlet
Current

16 amperes, continuous; 20 amperes up to 3 hours; momentary over range to 50 amperes for starting motors and similar demands.

Power

To 4800 watts at 240 volts.

Size

Portable, weighing less than 4 pounds, with dimensions of 6.5" x 5" x 3"

Adapters Fit

220-240 volt plugs from Europe, Asia, South America, Africa, Australia

Straight Blade Outlet

20 ampere receptacle for US/Canadian 208-240 volt plugs (NEMA 6-20)
Specifications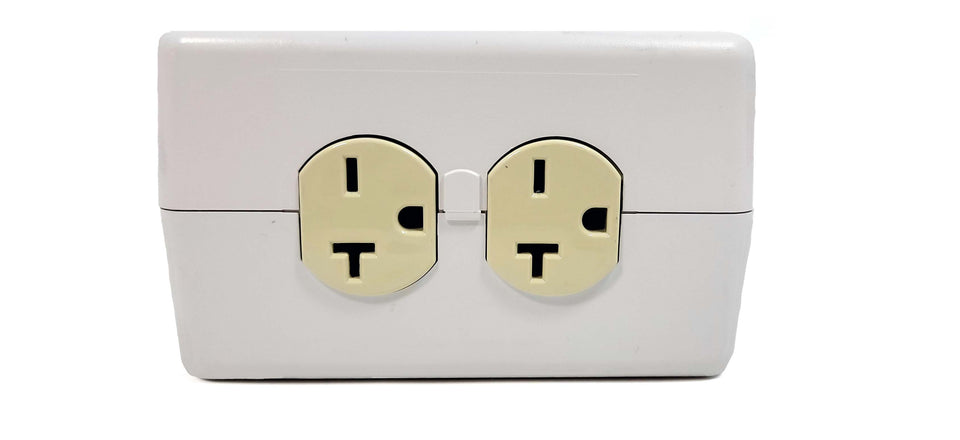 Input Electrical

110 to 120 Volts AC, 60 HZ, non-GFI or non-AFCI circuits, two circuits, out of phase.
Two 72 inch power cords, 20 amperes maximum each line, NEMA 5-20 plugs.

Output Voltage

Single Phase Input: 220 to 240 Volts AC (2 times input voltage).
Three Phase Input (using 2 phases):190 to 208 Volts AC (1.732 times input voltage).

Output Current

Model A220-20D: 16 amperes max. continuous; 20 amperes max. for up to 3 hours.


Output Power

Model A220-20D: 4800 watts at 240 volts.

Output Receptacle

Model A220-20D - straight blade, double outlet, NEMA 6-20R.